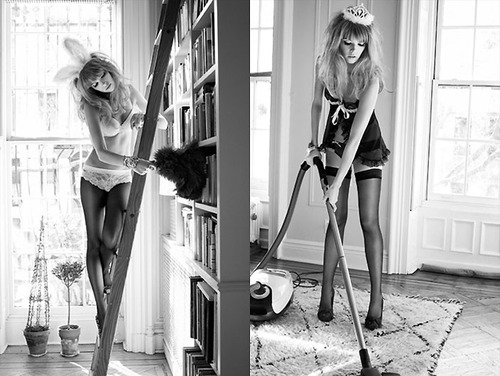 Writing is a fickle little craft. It's full of subtle nuances. It's abreast with rules, restrictions, corrections, do's and don't's. And as a wildly perfectionistic lil' woman, this can prove immensely frustrating. And as a professional writer? Even more so.
Regardless, the most effective writing 'rule' I've ever learned is quite a simple one, in theory.
Write in the active voice and not the passive voice.

TA-DA!
Alright, let me back up. To anyone not currently in a college grammar course (or teaching English to snot-nosed 5th graders), I may be speaking a foreign language.
Here's the quick n' dirty explanation:
With active voice, the subject does something.
With passive voice, the subject has something done to it.
And here's how it looks in, well, action:
Active voice = Erica's boyfriend bought her a MacBook.
Passive voice = A MacBook was given to Erica by her boyfriend.
See the diff? Fabulous!
Simple, right? Well, not always. Grasping the subtle and occasionally near-unrecognizable difference between the passive and active voice can be a challenge. Passive voice – dirty lil' devil – can slip its slimy, seductive, super-quiet self by us without so much as a squeak.
Sometimes we'll almost catch it. You know how it goes. You'll read over the masterpiece you just poured over for hours and notice that, well, it's not a masterpiece. In fact, it kind of sucks. Your writing sounds awkward.
But alas, it's not you! Passive voice has probably just invaded your copy, wrecking havoc one extraneous, apathetic word at a time.
(In fact, that may as well be passive voice's slogan. Passive Voice: Sucking the fun out of your otherwise genius writing since 1801. But I digress.)
In copy, it shows up like this: We choose (although probably unconsciously) to mix-up our sentences in such an awkward way that we confuse the heck out of our readers.
What we should be striving for is the active voice, which means we cut the crap. Cut to the chase. Drop the extra words. Say exactly what we mean. Use a strong, precise verb. Eliminate 'by' phrases. (As in, change sentences like 'The paper was written by the student' to 'The student wrote the paper.') Case-in-point: "I made a fabulous life" flows so much better than "A fabulous life was made by me," amiright?
But the marvelous thing 'bout alla this? Once we've got the lowdown on the passive voice, we can teach ourselves NOT to use it.
Bad habits – even in writing – can be unlearned with a little practice. (And they're much easier to unlearn than other awful habits like chain-smoking + swearing around children.)
Get it? Great. Now, this is where this whole passive and active thing gets really juicy:

Passivity v. activity is about so much more than just the way you use words
(You so knew this was coming, didn't you? Am I really that predictable? I am? Oh, God.)
Activity and passivity show up all. the. freakin'. time. in our daily lives. During any average sun-up to sun-down, we're faced with a zillion opportunities to choose the passive route, or the active one.  Just like in our writing.
Passivity or activity is a lifestyle choice.
It's about the way you think and the way you do (or don't) behave. It's the way you say what up to your co-workers, the self-dignity with which you tell (or don't tell) that douchebag guy to bug off and the awkward conversations you do or don't initiate with your BFFs. (P.S. I recently read the quality of your life can be measured in how often you're willing to have those icky conversations. Makes sense, no?)
If you're bold, voracious and comfortably confident without so much as a paprika-flake-sized hint of abrasiveness, you're the active voice in action. (See what I did there?)
But if you're more about taking the safe n' stable route, and tend to be a people-pleaser who waters their personality down to that of a potted plant so as not to cause waves, well, you guessed it. You're passive voice personified, babe.
While I truly hope you're the former (I've heard potted plants make rather dull conversation), often times, we're a delicate mix of the two, so luckily nobody said there's anything wrong with the passive voice or passivity, per se. But let's be real: It's just not as punchy, entertaining or to-the-point – in copy, or in life – as it's super efficacious sister.
(And it probably doesn't have the hot career, smokin' boyfriend and gobs of gorgeous friends who buy her fabulous birthday prezzies. Just sayin'.)
Now, before you passive peeps get all down on yo' fine selves, know this:
We can take a cue from our writing and do our best to eliminate passivity from our lives, too.

It may not feel like it, but it's actually our decision to tip-toe around issues, not directly ask for what we want and worry heaps about the consequences of our actions. (We always hate to hear that, don't we?)
Why would we ever choose such a thing, you ask?
Well, because passivity is easier. Not coming right out and saying what you mean keeps you safe. Being direct means we risk rejection. It means we might pour our heart n' soul into a project + get nothing back but some sad cricket chirps. (And sad cricket chirps are not exactly the stuff entrepreneurial dreams are made of.)
On the flip side – although it may seem harder at first – if we decide to be active in life, everything becomes clearer for us and everyone around us. When we do what terrifies us + we ask for the stuff we really, truly, deeply desire with no qualms, everyone benefits. Really.
SO. TODAY. I'm asking you to take a look at activity and passivity in both your writing + your life.
Ready to get all brutally honest? Leggo!
If your copy is passive, it…
- bleeds with needless words
- lacks a clear verb + vision
- reeks of awkwardness
If you live passively…
- your life is full of activities that don't serve you
- you lack concrete goals
- your life is full of drama + excuses
However, if it's activity you're into, your copy…
- scintillates with clarity + turns readers on with powerful action words
- beams with brevity + doesn't bore readers to death
- shines with succinctness
And your life?
- you know who you are, what you do + both how/why you do it in life
- you get ish done
- you probably look damn good doin' it
Now that you've taken stock, be honest:
Is activity or passivity running your life?
Is activity or passivity driving your copy?
Often, we find that there's a correlation.
Passive in copy and you're likely passive in life. But make the switch in your copy, and you'll find yourself being more direct + confident in many arenas.
Now, don't play. You know which kind of copy – and life – you want.  So, here's your homework! (Love that word, right?)

Get (more) clear on your message. Beef up on WHY you do what you do. Make it easy for others to understand you. And be direct. Always.
And then – just maybe – you can start doing the same with your life.
One step at a time, chicakdee.
(Want more on the passive voice? Read this post over at Grammar Girl for the grammatical specifics.)