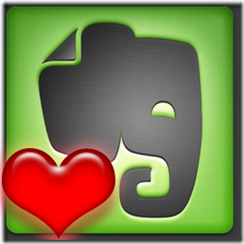 Truth: I am a firm believer that creativity + leading a positive, fulfilling existence go hand-in-hand. (Seriously guys, "If you can dream it, you can be it" couldn't be more true. Life is just one big test of your creativity, ya dig?)
But that whole schpeel? It's so been done before. And I'm not exactly one to follow the crowd. (Just ask my high school classmates. I used to wear ties to school. Oh yeah. That. Happened.)
So, instead I'm just going to show you how intrinsically linked your personal life is to your business by presenting you with one of the systems I use to keep both my 'business life' and 'personal life' in check. AT THE SAME TIME.
What system is that you ask? It's Evernote, the awesome desktop application that allows you to write down + organize your ideas + photos across all your electronic devices. Pure genius, if you ask me.
(Yep, I'm one of those 'Evernote people.' And I wouldn't have it any other way. By the end of this post, I wager you'll probs feel the same.)
Forreals, I use Evernote to get a handle on every important aspect of my life + business, and today I'm going to show you my process.
Ready for a peek inside Erica's Evernote? Strap in, ya'll!
First, my Evernote is divided into 7 notebooks.
Blog Notebook
- This includes all the new post ideas I have for this blog. It's full. Sometimes I have to create new ones just so I don't have to keep scrolling down to see all my ideas. (I'm impatient. I'll admit it.)
Compliments + Successes Notebook
– Believe it or not, sometimes I, too, get down on myself. (It's far too easy to wander off into existential-crisis-land when you're plugging away on a computer for 12 hours a day and running on exorbitant amounts of Starbucks coffee. I know you know.) So, this n'book is my electronic remedy to a sad heart. It's categorized by month, and includes a list of compliments + successes I receive that particular month. (Compliments + successes are separate 'notes.') Whatever plagues my little heart – whether I'm terrified to take on a scary project, or call up another client or hit the publish button on a potentially overly-emotional soul-baring blog post – I turn here. And you know what? Then I feel better. We always need reminders of what we've done (especially when we've done awesome stuff – which I know you have!) A quick look at the past often helps us get where we need to go – and gives us the confidence to do so. I mean, if you could rock that early morning presentation on no sleep while 5 months preggo, well, you can prob do anything, babe. But will you remember it? OK, that one you probably will, but you see where I'm going with this. Sometimes we just need a lil' reminder about how awesome we are.
Marketing Notebook
–  I know, I know. I'm a copywriter + a copywriter should totally devote an entire section of her Evernote to marketing schtuff. Duh! But, hear this, lady loves: Marketing deserves it's own notebook no matter your business. Because, as I learned from recently from Samantha Bennett's webinar "7 HUGE Copywriting Mistakes That Are Costing You Money" –  you really have two gigs: your gig + marketing your gig. For the marketing-weary, Samantha also shared this little piece of advice that erases all those images of sleazy used cars salesmen: Marketing is just telling stories to friends you haven't made yet. Put that in your pipe + smoke it. And then pass it my way, plz.
Don't know what to put in your marketing n'ook? Well, you've asked the right girl. I suggest signing up for Erika Lyremark's Daily Whip + compiling your faves into one note. (Mine is called 'Whiptastic,' cause, well, I'm creative like that.) Or create a note for Sales Page Swipe Files. I do this all the time: I see a sales page I like, I copy n' paste my favorite sections + include a quick link for later reference. (Sometimes the actual page design is as attractive as the words.) Done + done. I also have an entire note dedicated to marketing advice just for writers, but you could totally cater this to fit your business. Marketing advice for cupcake bakers, perhaps? Or marketing advice for intuitive healers? Marketing advice for lions, witches + wardrobes? You get the idea!
Style Notebook
- Did you know your personal style and aesthetic tells your potential customers a lot about your brand + biz? It seems pretty obvious but I really didn't really dig into this concept until a few weeks ago in Shenee Howard's HBA class (which starts again soon – ahem – #shamelessplug.) And well, not to go all pretentious-hipster-chick-in-horn-rimmed-glasses on you, but I've had a Pinterest account since way before it was the new cool thing to do, but I never really thought about what the content on my Pinterest might say to potential clients (but if I had to guess, they'd probably think I was a mix between a Kardashian, Snooki and Louise Hay). I was a total random re-pinner. But, let's be real: People judge. And if people are thinking about working with you, they will Google you + they will check out all the other places you hang out online.  Now that Shenee filled me in on the fact that um – hello Erica your clients can totally see your Pinterest! (and I subsequently smacked myself in the head cartoon-character style) – I'm far more conscious of the types of photos I post there.
So, as not to overload my clientele with photos of leopard print (totally my thing), I collect all the style images that inspire me and plop 'em in Evernote first, where they then get a nice lookover before they make (or don't make) the cut.
(Aaaand…this notebook is also where I keep my fashion wish list. Current must-haves, you ask? Glitter Toms +Nasty Gal Vintage's New Scorpio Ring, y'know, in case you've got any spare change lyin' around. I hear it's never too early to start Xmas shopping for your favorite new blogger!)
Self Love Notebook
- If you take anything away from this post, let it be this: Self love is the secret sauce to any successful, soulful-based business. I know you've heard that before. Being an entrepreneur requires high levels of trust + intuition. So, this notebook contains a hodge podge of self help-y stuff to lift me up on the reg. The first note is titled "READ THIS NOTE EVERYDAY" and while I don't actually do that, it does include some pretty awesome lil' life advice gems that could, in fact, be ready every day (and probably should be for maximum affect). For example? "Gossip is for lames," "the more you can laugh at your flaws, the better off you'll be" and "think of one compliment about everyone you see." Good stuff, right? The notebook also includes a note "tips for a better life" (ultimate tip? "be someone's cheerleader") + an entire note containing quotes on fear. Fear is an ever-occurring monster in the life of the entrepreneur, and I think it's important to remember that just because something scares us doesn't mean we shouldn't go for it. (And yes, that quote is totally in caps + bolded in my notebook!)
EricaLee's Notebook
– This least-visited n'book is filled with all my extra bits n' baubles. It's kind of like the junk drawer of my Evernote. So, like most junk drawers it's mostly crap but not totally without its prizes. Right now it includes heaps of silly, random lists like "life coaches I want to work with" (oh yes, that exists), "e-courses i want to take" and "things i want to say to nick [my boyfriend] but won't" (this has only ever been used once during our one and only breakup that lasted less than 24 hours. but it sure was a lifesaver at the time!) I also include un-fun stuff like tax write-offs in this notebook, 'cause, well..who wants to look at that stuff everyday?
And finally, I have my Writing Notebook
– a.k.a. my virtual hotbed for fabulous phrases, unique metaphors and punchy adjectives, divided up as such. An absolute must for any writer, but I think could also prove useful for all business owners. Are there certain words or phrases you often use in your business and want to recall easily? Jot 'em down. And, if you can manage, keep E-Note open while you work + add to it everytime you come across a fancy word or phrase that really tickles you. You might think you'll remember that cute lil' phrase at a later date, but trust me, you won't. Write. It. Down.
Your Turn! >>
How do you use Evernote? Share with us all the magical ways you use it to organize your life. Or do you have another go-to computer program that suits you better? Do tell! We're all friends here, right?