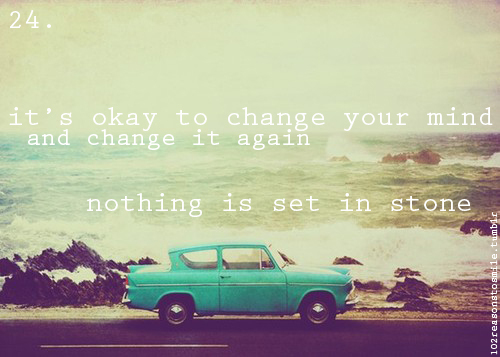 For a long, long time (+ in a place far, far away, except, well, not really), I used to get really rather unhealthily attached to things. This included everything from my boyfriends (I once trapped a high school ex-boyfriend inside a clothes hanger to keep him from leaving my house – totally messed up story yet true story) to clothes (raggedy t-shirt with "HOTTIE" monogrammed in glitter letters? all mine, baby!) to friends ("But I knew her first!"). I just couldn't let anything go. And this always included my interests, too. Once I got hooked on something – watch out, world! – it was mine. Forever and ever amen.
Right before leaving for college, I became obsessed with yoga, vegetarianism, poetry + the fact that I absolutely had to be a published, creative, fiction writer before the age of 25. All of this was non-negotiable. And although other things came along that threatened to pull my life in a different direction and away from said interests – for example, I started to hang out on the elliptical about 45 mins. a day, and drool over creative non-fiction essays and, you know, really loved gettin' down on some honey-glazed chicken wings – I just couldn't let my other interests go. Of course, I didn't realize this on the conscious level, per se. But when peeps asked me what I was into, or what I wanted to be when I grew up (ha!) or if I'd like to slam on some filet mignon  – I, without fail, reverted to my go-to interests + responses. (Yoga, an author + eating-meat-is-so-passe-how-dare-you-you-gross-carnivore, in that order.) I think there was a part of me that knew I wasn't fully living in my truth anymore when I said those things, but the responses had become so ingrained in me that I barely noticed. It was like I'd made my bed, and I was going to lie in it, because, well, changing would mean … changing. And that's never really that fun (until it's over, anyway).
Anywho, flash forward a few years, and I am finally coming to terms with the fact that I can change my mind. Yes, it's true. I'm 2 years out of college now, but until a few weeks ago, I was still totally chillin' in stuck-in-the-past-ville with no roadmap out. I was so sold on yoga + creative writing + all that other jazz that I refused to see the fact that I had changed and subsequently, so had my interests. And more importantly, that that was okay. I didn't have to be a fiction author anymore. Seriously!
The conundrum about me and I think a lot of other people like this is that I tend to get really hyped up about a lot of things, but never actually carry them out. I had these interests that I felt I was bound to, but also dabbled in pretty much everything else when it came along, before giving up and/or reverting back to my go-to "goals" and "interests." In retrospect, it seems like that was just a way for me to cope with life without ever having to put in much effort to actually go after the new things I wanted. Certain things felt safe. And safety is sooo comfy that it's really hard to shake.
Believe it or not, you will encounter a lot of the same challenges in business as you will in life.
Just like your life future, your business' future is an ever-evolving creature. (OK, that kind of paints a weird picture. The word creature totally creeps me out. But I think you're smellin' what I'm cookin'.)
Lately, I've been doing a lot of reading about people who find themselves enamored with like, everything. Turns out, being a polymath is actually kinda a big deal. Said reading also informed me that it's really okay to just pick one thing out of the million that you like + run with it + not worry that you have to be chained to it forever. Nobody's ever chained to anything forever. Even couples who are married and legally bound to each other are never really stuck. And of course, they're also not the same people they were when they first got married. It's just not possible. Things grow, change, evolve, wilt, die, recreate. It happens. It's life, yo.
And so it goes with your business, too.
I don't know if I'll want to be a copywriter forever (for reals, I am so intrigued lately about the idea of becoming an actual certified yoga instructor that I was thisclose to scrapping the copy thing…for about an hour), but I know I want to do it today. And if I don't want to do it anymore tomorrow? Nothing is gonna happen. Except, well, I'm going to have a couple of angry clients. (Note to current clients: I'm not quitting! I swear!) Still, the world will not explode. There will still be sushi rolls and red wine. And there will still be Real Housewives of New York City re-runs. Thank goodness for that, amiright?
So if you're one of the but-I-promised-my-mother-I'd-do-this people who are afraid to stray from your original ideas, or someone who has so many ideas but can't seem to settle on just one, either way, seriously, don't sweat it. Neither of those things has to be a curse. I mean, can we just talk about how many times I mentioned yoga just in this one post? Exactly. Your other interests aren't going to wither + die just because you're not doing them for "work." And you're allowed to try one thing and then let it go if it no longer serves you. And even better, I've found there's always ways to infuse one interest into another. Copywriting for yoga teachers, anyone?
Let me reiterate: If having too many interests, or one interest you feel "stuck" on, or having a super-crazy-extreme fear of commitment is getting you down, just pick something to focus on. Anything. Seriously. You don't have to give up everything else
.
You'll just try this one thing, for awhile, and see how it fits. And then, you'll go from there and you'll have averted at least like ten panic attacks, which is a serious Godsend. (Oh, and same goes for peeps who are already in business and all like "Wah! I started this business but now I want to do this business 'cause it feels better!") You're totally allowed.
If you need more reassurance, let's get all left brain-y and think about it logically. Yoga (or knitting or baking or painting or sewing or web design) aint goin' anywhere, sister. I can promise you that. And if in a year, a week or month, you realize that one of your other interests (or a brand spankin' new one) is your true calling, well, GO FOR IT. But go for it then, not now, and not all at once.