Write smarter, sexy. Pop your name + email in the boxes below to score my FREE Sexy Sales Page Template –
a super haute, step-by-step guide to creating sales copy that's cool, compelling + totally you (plus makes hella cash, too!)
You know you have something unique to say…
but hell if you know how to say it so it make sales.
Here's a quick story about a woman you might recognize…
She's hella smart, stupid talented and has insane taste in handbags (#KateSpade #FTW). She knows she's incredible at what she does/creates/makes and obvs, she's making killer money in her business. Only problem? She KINDA freaks out every time she has to write about it.

"How can I possibly define myself and capture who I am and /or what I offer without sounding like a QVC commercial?" she wonders. "What if this magical/fabulous thing I poured my heart + soul into doesn't sell because I have no clue how to be 'persuasive'? " she laments. And worst, "Ugh, this is THE WORST. I have no energy, it's boring AF and I swear I sound like EVERYBODY ELSE online!" she (ugly) cries.
Cue the heart palpitations. The palms so sweaty she can barely grasp her Starbucks cup. And the blinking cursor of her deepest, darkest, brokest-and-living-on-Ramen-noodles nightmares.
Sound familiar? Vaguely? 😉

If so, girlfriend, you are SO not alone.

It IS terrifying to make a statement when you don't know exactly what you stand for.
It IS scary to define what makes you and your product/service unique in words (because WHAT IF THEY'RE THE WRONG ONES?).
And it DOES feels "confining" to try to distill everything you're crazy- passionate about into snappy headlines and subheads.
Aaaand that's where I sashay in, chill glass of moscato hand.  (For you. Okay, and me, too.)
Hey babe.
I'm Erica Lee Strauss, head ladyboss at xo couture communications + pixie-sized copywriter
extraordinaire.
And my 'thing'? C
rafting compelling web + email copy
for stylish-and-soulful creatives that "sounds like you and make sales, too."
True story:
I've been writing on the Internet for cashola for half a decade now, and to date, I've helped
hundreds
of small business owners use the 'right' words to do some pretty incredible things.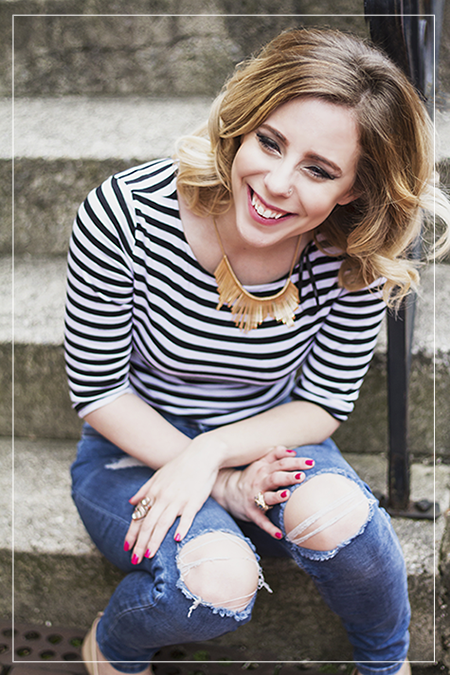 Things like: 
: craft money-making messages out of their jumbled thoughts
: write about pages so fascinating they want to meet themselves
: whip up sales copy that gets them salivating over their own offers
; and get a MAJOR confidence boost when it comes to writing about their businesses #bonus
All without sacrificing pizzaz, personality or witty pop culture references. 'Cause that's how we do.
Real talk, sister: Copy isn't just words on a page when you do it 'right.'
It's a declaration of who you are and what you stand for.
It's a bold statement that will position you in the marketplace and determine the kind of people you attract, and the amount of money they'll pay.
And it's YOU taking a chance on you – and finally putting your sexy talents + gifts out there in service to others. 

Yep, I've seen what good copy can do for a business, and the woman running that business.
(Case-in-point: I'm a super introvert who launched her biz from her ex-boyfriend's basement and literally went from a socially anxious wreck with about $20k in debt [not counting those damn student loans] to a not-so-socially anxious 'success' who now easily supports herself, her two orange cats, her one fluffy Pomeranian and her sorta expensive shoe/Starbucks/self help book habit. [Okay, yes, that's multiple habits, but you know what I mean.])

I've witnessed it, and I've lived it. And I want it for you, too.
I believe edgy women like you are changing the way 'work' exists as we know it. And if you've got legit gifts, talents and skills, I want to help you be part of the change.
So…
If you're fretting over how to introduce yourself or your new thang to the world in a way that stays true-to-you and puts money in your pocket, too, stick with me, babe, and I'll coax that money-making message and signature story right outta your brillz brain and onto the page, for the better of all of us.

All without making you sound like a QVC commercial. 🙂

A bit more about moi? I'm sooo flattered you asked! (Okay, you technically didn't ask, but…)
: My background is in language, psychology + marketing (shocking, right)? I have both a Bachelor's degree in English and half a master's degree in Marketing + Communication. Not to mention, I've spent countless hours studying copywriting, online business and marketing psychology from both old school and new school pros. Oh, and I can't forget to mention all the time I spent religiously poring over the headlines on Cosmo.

:  I'm a former celebrity gossip reporter with top shelf knowledge of all things pop culture. Translation?I spent three years making Kim Kardashian sound super fascinating day in and day out. (A skill that surprisingly comes in handy more than one might think!)
: In past lives, I've also been…a fashion blogger for one of the top 100 most influential sites in the industry. A relationship psychology columnist. A published author in several compilation books. Addicted to bad boys (and published an essay in Seventeen to prove it). A poet (my old Xanga and LiveJournals will totes be worth dollars one day, I swear it). A holistic life coach (yep, 100% certified!). A vegetarian (and I still often choose the meatless version of most entrees). A jazz dancer. And probably a few other strange things I'm forgetting.
: I'm a "spiritual girl in a material world." I'm obsessed with rap music + pop culture + all things bling bling, but I also love philosophy + practice gratitude, meditation and other spiritual practices on the daily – and I tend to attract people who the same. (Like you, perhaps?)
: I'm a Scorpio, an INFP and a tiger in the Chinese zodiac. Oh! And my love language is words of affirmation. Pay me a creative (+ genuine!) compliment + I'm yours for life.
: I geek out about: the color pink, reality TV, moscato, hip hop fitness class and EDM. I love them all without guilt.
: I put my sparkle on everything that comes through the doors here, but I do have a tiny-but-mighty (and pretty badass) team backing me up. Cause behind every successful woman is a squad of other successful women (that IS the saying, right?) 😉

: And just FYI, we vibe particularly well with beauty and fashion brands, self love and relationship coaches, business + money mindset coaches and any other business that helps women look or feel fabulous.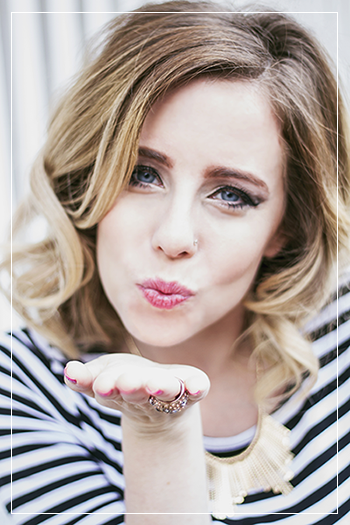 AND FINALLY, THE "OFFICIAL BIO"
Erica Lee Strauss is a pixie-sized copywriter + message mentor who loves helping sassy, soulful coaches + creatives make mad cash sharing their unique message online.
A total pro at helping clients get crazy-clear on what they're all about, Erica has collaborated with hundreds of badass biz bombshells – from six figure online superstars to sexy startups on tiny-but-mighty missions –– to convey their value in succinct, sexy language that sells without giving up their voice or vision.
When she's not penning shiny sales pages or mind-blowing bios (the kind that often make her clients cry fat tears of joy and relief), you'll probably catch her shaking her thang in hip hop class, sipping an iced caramel macchiato + ferociously scribbling in her (Kate Spade) notebook, at an outdoor concert or online shopping (#noshame).
To sexier syntax,