24: Things I've Learned & Goals I Have.
by
Erica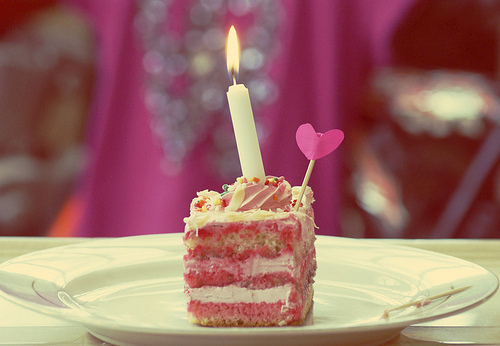 There are three hundred and sixty-four days when you might get un-birthday presents … and only one for birthday presents, you know. — Lewis Carroll
Today, I turn 24. That seems like an unbelievably large number (especially considering the fact that I'm writing this post from my room in my parent's house — not exactly where I thought I'd be on my big 2-4). But whether or not I want to believe it, another year has zoomed by.
Don't get me wrong: Regardless of the number of candles on my cake, I LOVE birthdays. Birthdays have always had this sort of magical, however ephemeral, quality to me. For one day, those mere 24 hours (gah — there's that number again!), I feel a little bit more important, a little more excited & a lot more contemplative than I do on the other 364 days of the year.
Yeah, I'm that girl. I've been known to cry on my birthdays — & not always out of happiness. But I do always get a little crazy with the "next year" goal-setting. So, to break the pattern (lesson #7!) I wanted to try to slow down & take a big ole' breather on my b-day. Instead of rushing ahead full-speed like the oftentimes too motivated type-A child I am, I decided to take a long pause to reflect on all the awesome, intense, ridiculous & all-too-human lessons that have been bestowed on me over the decades. Oh, and then I wanted to share them with you. I hope you're cool with that.
BY THE WAY — please forgive me for any over-sentimentality lately. Writing a novel sure brings out the drama queen in me.
24 Things I've Learned in 24 Years::
I, Erica Lee, during the first 24 years of my life have found the following statements to be "my truth":
1. I can make time for myself.
2. "Be careful what you wish for — 'cause you just might get it." Whatever you wish, know that those dreams coming true will also mean an immense amount of change.
3. If you have things to give away, consider yourself very lucky.
4. Music is the best medicine.
5. Pills (prescription or otherwise) aren't permanent solutions.
6. Never buy the smaller size item in an attempt to force yourself to lose weight.
7. Doing one new — or scary — activity every week keeps life exciting.
8. There's no better time to do that thing than NOW.
9. Most people will always put themselves & their interests first, no matter what. Remember this & act accordingly when you're faced with tough decisions.
10. You have to know & love yourself before you can truly know & love someone else.
11. Good lighting & a nice camera can make anyone look hot in photographs.
12. Everything that annoys you about someone else really does provide you with some insight into what you wish you could change about yourself — but not worrying about or analyzing other people & what they do is much easier on the mind.
13. No matter how much you resist it, change will come — in yourself, in your environment & in others.
14. Friendships offer us a more solid foundation than anything else.
15. Nobody knows what goes on inside your head. This is equal parts liberating & TERRIFYING. This also means that all that mind reading you do is really for naught.
16. You might share blood with your family, but you don't have to share vices.
17. Adding new words into your vocabulary can spice up any conversation — and make you feel like a new person. I feel instantly cooler when I throw words like "sick" into a convo.
18. A little extra effort to stay organized every day is unbelievably helpful.
19. Even if you're not leaving the house, it makes you feel better about yourself if you put on a little makeup.
20. None of us chose to be here, but now that we are, we might as well have a damn good time — & ensure that others around us do, too.
21. As long as your hair & eyebrows look good, nothing else about your outfit really matters.
22. Nobody thinks being a hard-ass is cool.
23. Love will always, always, ALWAYS show up out of nowhere & totally take you by surprise — for better or worse.
24. Glitter is the ultimate accessory, second only to a big heart & wide smile.

We turn not older with years, but newer every day. — Emily Dickinson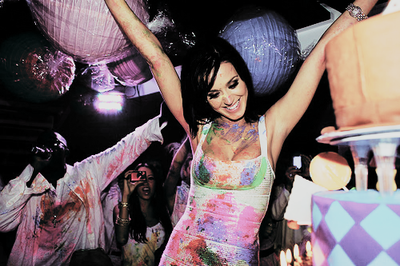 24 Goals for My 24th Year::
1. Make at least 1k/month from writing.
2. Publish (or at the very least, write) a novel.
3. Write & produce one dubstep song.
4. Perform hoop dancing in front of an audience.
5. Start training to become a yoga teacher.
6. Learn to forgive myself — completely.
7. Be more open & make at least one new female friend.
8. Hang out with more people who have similar interests.
9. Find my own place.
10. Become financially independent.
11. Reduce my ecological footprint.
12. Learn how to do a killer smokey eye.
13. Have someone photograph me.
14. Go scuba diving.
15. Run a half-marathon.
16. Donate everything I don't need to charity.
17. Plan an epic vacation (following through optional).
18. Build a wardrobe fit for a 24-year-old (um, yes, I still wear shirts, jeans & even some undies from 8th grade because I haven't grown!)
19. Learn to take fantastic photos.
20. Give up the social smoking.
21. Learn to believe that I DESERVE IT when good things happen.
22. Become infinitely more organized in my home, my car & on my computer.
23. Work through my issues with my family — when I'm a safe distance away.
24. Embrace any change that comes my way and continue to SCARE, STRETCH & IMPROVE every day (even if that just means reading a book over watching the Kardashians…again).
No wise man ever wished to be younger. — Jonathan Swift