Bloggers, Say Hello to Your New BFF: The Printed Blog
by
Erica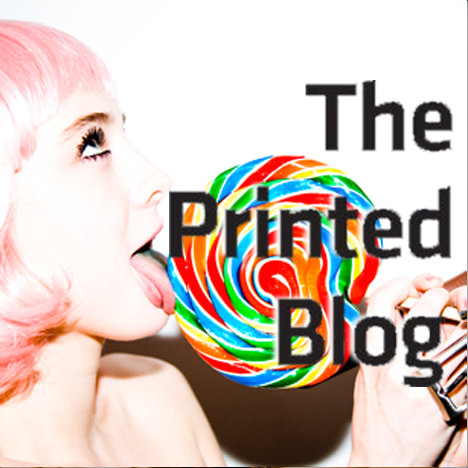 Voracious Vixens!  I'm not going to bore you with needless apologies about my lack of blogging lately (though I do, sincerely, apologize). Instead, I'm going to jump right into telling you why I haven't been around.
The Printed Blog has captured my heart–and my time.
So like, WTF is The Printed Blog?  It might sound a bit backwards at first, but hear me out: It's a weekly print publication featuring the best blogs and photography from the web.  Every week, a panel of guest editors (including some hot names like Brittany Snow and Sara Paxton) will review all the blogs in The Printed Blog Bloggers Network for fresh content to publish. What is the network, you ask?  Well, let me preface by saying that yours truly working as the Blog Relations Manager at The Printed Blog – which means I'm kinda the empress of the network. Like, I'll let you know if you're in or out.  Like, I'll send you updates. Like, I am the network  (Not really, we have an amazing team working on all of this. But it sure does make me feel important to write that…)
So, because I truly appreciate all of my lovely readers (& because I know a lot of you are kick-ass bloggers), I decided to come to you with this opportunity first.  In the next week or so, this promotion will go live on Ed2010 and mediabistro and the like, but right now, it's kinda hush-hush.  But since you guys are like my own personal network of bloggers, I wanted you to have the opportunity to submit your blog to the network first!
If the idea of TPB intrigues you, please do submit your blog. And then, Tweet/Facebook/Digg/MySpace (does anybody even use that anymore?) the shit out of it.  Tell everyone you know.  Because, here's the catch = The Printed Blog pays bloggers for every piece we publish. How, you ask?  Based on the number of subscribers. Basically, when you subscribe to TPB, you are directly funding the bloggers & photographers featured inside.  You're also supporting me, because at this point this gig is paying my billz!
TPB is all about the bloggers, man.
So, here's your To-Do List:
1. E-mail me (erica@theprintedblog.com) with your URL.
2. Wait for me to reply.  I know, that sucks. But, in the meantime…
3. Subscribe to The Printed Blog!  Follow us on Twitter!  "Like" us on Facebook!
4. Add the network badge to your page (after I send it to you in a timely manner) so your readers can vote you in.
5. Be super excited & elated when your best blogs end up in print!
Thanks so much for always supporting me.  It means so much.  If you have any questions (or if you'd like to be a guest editor for TPB), just shoot me an e-mail (erica@theprintedblog.com).
With so much love,