Brain Sex: How Many Lives Will You Live?
by
Erica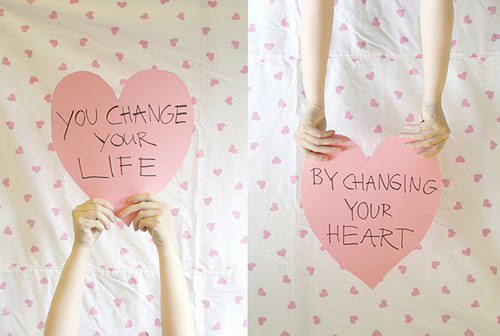 image: ♥
Right now, I'm 99% sure that whatever I'm going to write will be crap.
I'm sitting at my keyboard, listening to my Bassnectar Pandora station, sucking on a butterscotch (seriously! I don't know how I forgot this simple pleasure from childhood!) and working on The Printed Blog, a project that I'm ecstatic about & wholeheartedly believe in. (In fact, it's existence has motivated me to clean up my content around here. Not in a I-Can't-Say-Fuck way, but in a I-Better-Write-Some-Good-Shit way).
So it kinda makes me sad that I'm hating on my writing right now.
But even though I'm a little down & out because I can't harness my creative chi the way I'd like–I'm also fully aware that I'm so lucky to be living my life right now. There are people without money, without food, without shelter–and here I am, sucking on a damn butterscotch and getting paid to read blogs.
What's totally priceless about this is that the 'Old Me' would never have viewed the world through the gorgeous rose-colored shades I'm sporting. The 'Old Me' would focus on the fact that I haven't showered today, or that I'm still in my yoga pants or that the butterscotch – however delicious – is going to rot my teeth. (Which, honestly, at this point I don't care. Too good!)
I realize that I'm not only thinking differently about my life, I'm living a whole new one. Fresh. Ripe. Untainted. State-of-the-art. Sharp & sparkling & invigorating.
Yes, some of my circumstances are the same as they've always been (I'm living with my parents). But this time period in my life just feels different. Almost as if the other 'times in my life' didn't exist.
My mom and I had a conversation about this the other day. We were watching a movie together (a rare occurrence, but a special one). The movie, The Box, was – pardon my French – fucking awful. I'm not the best movie-watcher anyway, but I literally struggled to keep my heavy eyelids open.
The movie sucked but the soundtrack did not. During one scene, the couple in the movie was at a party and the Marshall Tucker Band song "Can't You See" started playing in the background. My mom and I both looked at each other. She said, "God. This song reminds me of Joe. This song reminds me of another lifetime." (Quick story: Joe was my mom's first husband who she helped through dialysis. After 10 years, he cheated on her & left her for another woman. He died a few years later.)
I know that just-punched-in-the-stomach feeling all too well. The same song reminds me of an ex-boyfriend who cheated on me with a mutual acquaintance. We played it incessantly the spring & summer we dated, laying in my hot, sticky un-airconditioned room for hours, reciting all the promises that young lovers are notorious for making And although the first few notes of the song used to make me keel over with sadness & basically fall apart, I knew exactly what my mom meant. This time, It felt distant. Remote. Like that young, big-hearted, naive girl who desperately wanted love and chased after it like a wounded puppy chases it's abusive owner, was somewhere–and someone–else.
I realized how far I had climbed. I'm not that girl anymore. I'm not living that desperate, attention-seeking, people-pleasing life anymore. I realize that now, I'm doing things for me. I stick up for myself. Respect my body. Honor my strengths & accept my weaknesses. Only do what feels right & true & authentic. For me. And no one else.
So I think the lesson here is this: When you're totally immersed in one life, you sometimes forget that others can exist. This is wonderful if the life you're living is as sweet as mine is right now–but it can be a serious nightmare if your current sitch isn't the greatest.
Remember that life should not be–and is not–stagnate. Even people who absolutely abhor change will have to go through it. You have no choice but to deal with what comes your way.
For those of you looking for a way out, I hope you find this comforting. No, the scars don't vanish, but they do wane. They do heal. And no matter how many you have, you can choose to move on. You can choose to live a new life or you can wait for it to happen. But either way, it comes.

How many lifetimes have you lived? I'm only on my second, but I'm almost positive it is not my last.