How to Rock the Party Scene for Introverts
by
Erica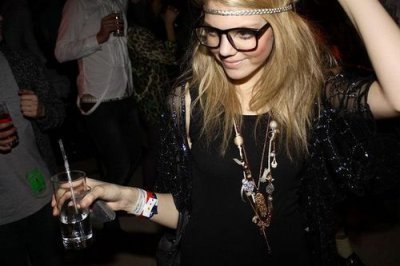 [Note: I'm not an expert on mental health or human interaction. I am an introvert who has (not so) artfully navigated five years of college parties, bars & other nerve-racking social engagements. This post is a result of years of my trial-and-error. Enjoy!]
Throughout my life I've been labeled quite a few things: Short, quiet, creative, prude, promiscuous, ridiculous, petite. But perhaps the one label that has stuck with me the most is this: Introverted. I didn't exactly understand the "weight" of being an introvert until years after I first heard the term, but it is one that sticks out in my mind whenever I am asked to describe myself. So, what exactly is an Introvert? Contrary to popular belief, introverts are not necessarily shy in the traditional sense. Introverts just re-charge differently than extroverts. Introverts need time & space alone to create, think & explore their own minds in order to feel full & energized. Extroverts, on the other hand, seek out outside experiences–namely, other people–to recharge their batteries. They like to talk & engage with others in order to feel more "alive." It's a simple matter of how we fill ourselves up that separates us. No big deal in most situations, but when it comes to parties, clubs & even simple social events like work lunches, the differences are blinding. Introverts need to prepare, act & recover differently than extroverts. This guide is a simple collection of ways that introverts can look to navigate–& conquer–the social scene, without burning themselves out.
So, what should an introvert do to lock down their partying skills? First, introverts (especially the shy ones!) should learn these Rules of Conversation.
Rules of Conversation for Introverts:
Rule 1: Relax. Sometimes, engaging in conversation (especially small-talk with acquaintances or strangers) can be an emotionally taxing event for an introvert. I know–I used to absolutely hate talking about anything superficial (which makes up like 99% of normal small talk!) like the weather, my or the other's party attire or the host(ess) of the party & how pretty their home is (gag). I much preferred to talk about what was going on in the world, poke inside another's mind & ask thought provoking questions about their feelings & beliefs. However, most people (especially those at large parties) are not exactly down to discuss global warming. Parties, clubs & bars are an escape from the issues we deal with everyday. Introverts should try to remember this too! Use this time away from your house as a time away from your mind, too. Your thoughts & dreams will still be around to play with after the party is over.
Rule 2: Silences are OK. A momentary lapse in conversation is totally normal. Even the most talkative extroverts find themselves speechless sometimes. It's totally OK to pause, take a breath & change topics. In fact, it's better to pause & switch to another topic or another person all together rather than drag on a dead conversation.
Rule 3: Leaving a conversation is sometimes necessary–& normal. When mingling, it's easy for an introvert to feel "trapped" by the other party in a conversation. This should NEVER be the case! It's never rude to excuse yourself from a conversation if you're feeling tired, bored or need a moment to think.
Rule 4: Focusing on the other person is key. You'll always feel nervous if you're focusing on yourself. Being self-conscious is never a good feeling. Instead, focus outward as much as you possibly can–remember names, occupations & whatever else they tell you about themselves. It takes awhile to learn this skill, but it's one you can sort of "fake" until you make it.
Rule 5: If you're stuck, ask a question. The quickest way to spark a new conversation is to ask a question. Even if you have to fake interest in what you're acting, as the other person opens up to you & you focus outwardly, you'll find yourself naturally interested in whatever they're saying.
Rule 6: SLOW DOWN. Perhaps the most important rule. If you find yourself getting a little keyed-up or excited (about to suffer from a Groat's Disease episode, anyone?), consciously SLOW DOWN. Speak slower than usual. Stop fidgeting & really notice your own body in space. Chances are, no one will notice you have slowed. They'll just think you're finally feeling your last shot of Patron.
After you've mastered the Rules of Conversation, it's time to prepare yourself.

Before the party:
1. Mentally prepare. Practice some affirmations. Do a little exercise. Reassure yourself that you will have a good time. The best piece of advice I ever received about parties was this: Decide you're going to feel OK–no matter what. There is no reason for you to ever feel awkward, strange or out of place just because small talk or silly conversation isn't your favorite thing. You can have fun no matter what the outside circumstances are. Remind yourself of this throughout the night whenever necessary.
2. Create an "Escape Plan." Before you cruise to the party/bar, make an "Escape Plan." Your Escape Plan is just a small, pre-made excuse you can whip out if you absolutely need to leave or are feeling overwhelmed. Something like "I'm so sorry, but I totally forgot I have another party I need to get to before it gets too late" will totally suffice. No need to ask another friend to call you with a fake emergency (though that can work, too!). Only use your Escape Plan if absolutely necessary. Just knowing you have one should ease your nerves. Let whomever you're going with know that you might leave early.
3. Review the Rules of Conversation. Remember that silences are OK, you can leave & enter any conversation you'd like at any time & that you are always free to go home. It's your life & your party, too–so enjoy it in whatever way feels good to you.
4. Clear your schedule for the next day. Face it: You're going to be out late, talking to strangers, drinking & doing other things not in your normal nature. So, don't schedule anything important for the next morning or afternoon so you have time to re-energize yourself. Clear a couple hours in the morning for extra sleep, a good breakfast & time to "recharge" on your own. Do projects the day before the party, schedule meetings for two days after & get any stressful assignments/errands out of the way beforehand.
During the party:
3. Drink alcohol in moderation. Alcohol can definitely help an introvert loosen up. But it's also a sad but true fact that most of us (introverts & extroverts alike) have made the mistake of drinking too much & in turn, doing or saying too much as well. This is particularly embarrassing for the introvert who generally keeps to herself, but ends up gushing to a complete stranger about a personal issue or getting a little too touchy-feely with an acquaintance. Remember that the next day you (& everyone you're partying with) will return to real life. Whatever you say & do at the party can (& will!) follow you back into the real world like a bad dream. Plus, alcohol increases GABA while intoxicated, which in turn makes you EVEN MORE anxious the next day. It's pure (neuro)science, baby.
4. Take a break. This is where smoker's are lucky–they always have an excuse to exit a circle for a moment alone (or with a close few). I'm obviously not advocating smoking, but don't be afraid to use it–or anything else–as a way to politely remove yourself from a situation if you feel uncomfortable, antsy or overwhelmed. Try excusing yourself to get food, or another drink (& maybe choose a water this time!) or say you need to take a bathroom break.
5. Dance. Moving your body is THE antidote to anxiety. If you're feeling anxious & there's a dance floor nearby, consider it your golden ticket to instant relaxation. Remember this: You don't have to talk while you're dancing! Plus, moving your body and/or singing (a proven anxiety-distraction strategy) both calm your CNS. Dancing literally burns off adrenaline caused by anxiety.
6. Find your niche. Odds are, there are other people at the party who aren't exactly thrilled to be there, either. Look for people hidden on the couches in the corners, outside smoking cigarettes or talking in small groups, or hanging out by the bar, alone. Embrace the other introverts at the party & discuss the things you'd really like to. Also, there is no law that says you can't stand around by yourself. You are allowed to stand around & not talk to anybody–others do it all the time!
7. Leave early. Simply put: You know yourself best. If you feel totally drained, wave the party Goodbye!
ROCK IT! By following these tips, you'll enable yourself to perform (which is essentially what party-going feels like for introverts) at your highest level & be your most charming, interesting, personable, wonderful self. Nobody likes the person who talks constantly anyway. And being the first to ask your pals to hit the dance floor is a bold move everybody will admire.
After the party:
7. Recover. Chances are you'll feel the "draining" effects of last night's party the next morning & throughout the entire next day. This is particularly true if you drank alcohol the night before. Mentally, anxiety can spike the morning after drinking & physically, hangovers are torture. Make sure you drink plenty of fluids, eat something healthy (I know a greasy burger from MickeyD's is tempting–but it hardly provides you with the nutrients you need to replenish your body) & don't say "Yes" to any engagements which might continue to drain you. Chill out on your sofa, grab a cold bottled water & catch up on your DVR, in silence. If you can't avoid people (which I never could in college–I always had multiple roommates who seemed to love getting up early, laughing like hyenas & sometimes, "licking the hair of the dog that bit 'em" the morning after a big party), just let them know you partied hard last night & need to mentally check-out for the day. If need be, lock yourself in your rock to draw, paint, listen to soothing music or do something to "fill yourself back up." THIS IS TOTALLY OK! You'll thank yourself later.
More info. for introverts:
♥ Introverts & Parties from Psychology Today.
♥ More Psychology Today @ their aptly-named blog, "The Introvert's Corner": Party Survival Tactics for Introverts
♥ I Am An Introvert & Here's What You Should Know
♥ Surviving Christmas parties (or any other party!)
♥ Also, try Networking Tips for Introverts
♥ Small talk specific: Introvert Conversation
♥ 10 Tips for Surviving Parties for Introverts
Your Turn:
Are you also naturally more introverted, but have found ways to adapt to the extroverted world? What do you do to calm yourself down before & during a party or social event? Talk about it in the comments! If you liked this post, consider signing up to receive updates or Tweeting this post to share it with others (easy-to-use button below!).