my top five faux fur items for fall (say that five times fast!)
by
Erica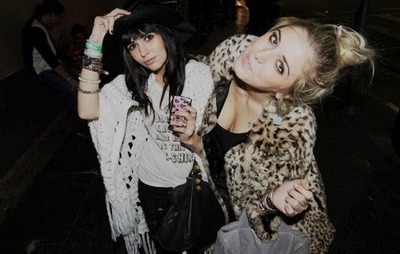 Normally, when temperatures drop, so does my spirit. As a very warm-blooded Texan by birth who was unwilling transplanted to Ohio, anything below 60 degrees sends chills up my spine.
So autumn and I aren't exactly best friends.
However, there is one undeniably awesome thing about fall that all fashionistas can agree on: The fashion. Tights, boots, tailored jackets — all of these fun-to-wear (and layer) pieces are enough to make me reconsider reconsidering my hatred for the season.
But perhaps my favorite fall fashion item is the faux fur vest or jacket. It's just so…glam. Wearing faux fur makes me feel much less like the college student I was once and much more like the (almost 24-year-old!) woman I now am.
And as we move slowly out of breezy autumnal air and into that even colder season, it becomes considerably more important to make sure you've got a couple cute jacket options for those end-of-season bonfires and apple-picking adventures.
But real fur — as we all know — carries an extremely high price tag. So, my question is: Why not spring (or fall – har har) for something a little more wallet (and animal) friendly?

Well, because you're all creative little lassies with busy, exciting lives, I did some of the dirty work for you and compiled this easily-scannable list of four of my favorite cute and relatively inexpensive faux fur items for fall (whew!):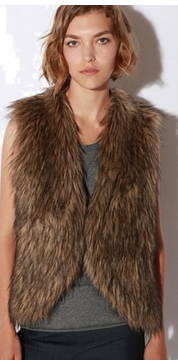 1. Ecote Faux Fur Vest from UrbanOutfitters.com – $98.00
Faux fur isn't always as comfy as the real thing — I know. But this brown, open front vest from Urban Outfitters looks furry enough to snuggle up to. It's shorter in the front, longer in the back and designed to fit snugly around the chest — so it's one piece that you can count on to keep your warm into even the depths of winter. Urban's website is chock full of fur right now, so if this little beaut doesn't tickle your fancy, you might find another one that will.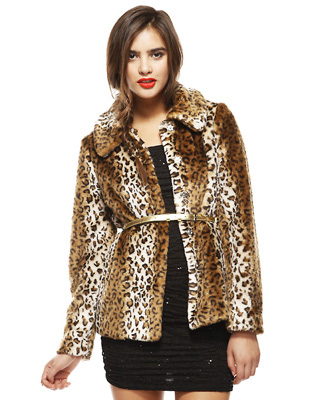 2. Faux Fur Cheetah Print Coat from Forever 21 – $39.80
Animal prints aren't for everyone — and I totally get that sometimes, wearing a print (like cheetah) just looks well, cheesy (kinda like this sentence, huh?) But at less than $40 a pop, this long-sleeved, collared cheetah print coat is a good way to try the trend breaking the bank. Love it? Check out Free People's stylish Almost Famous faux fur jacket (yes, like the movie featuring Kate Hudson). I could never afford it, but it's still nice to look at.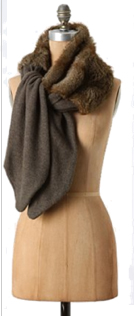 3. Irina Cardigan from Anthropologie – $198.00
Alright, so I can't actually link or post a photo to this one right now because it's so awesome that it's currently OUT OF STOCK (and might remain the way forever cause it's such an ingenious idea). But, if you're not sure if you're ready to commit to faux fur, Anthropologie's got you covered with this vintage-inspired fur-collared cardigan. Not only is the cardigan only furry on the collar, the whole collar is actually detachable. That's right — if you want to ditch the fur for a day, you can. Super painless (and obviously pretty popular)! But I also love their Wintertide Scarf (pictured above), which also gives you the option to add or remove fur from your ensemble.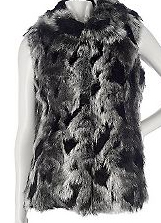 4. Rachel Zoe Faux Fur Vest with Hook & Eye Closure from QVC —$79.00
On the other hand, if you're totally committed to looking like a rock star (or Rachel Zoe, whatever — the terms are synonymous in my book), this affordable vest from Rachel's collection for QVC has received rave reviews. Available in four colors and nine sizes from XXS to 3X, this vest complements any body shape and adds a touch of wild glamour to any outfit — awful pun totally intended.
But my absolute favorite faux fur option is…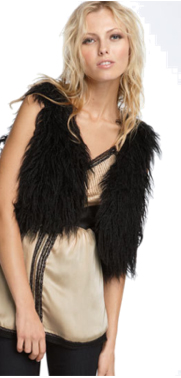 5. Kensie Faux Fur Vest from Nordstrom — $78.00
I like black. I like fur. I think they're both sexy as f. I just wish this wasn't so expensive (and oh, I would so settle for wearing it in brown, Old Navy, but why oh why do you hate us poor petite girls?!)

How do you lady loves feel about faux fur? I'm obsessed. If you find any other cute options, please share them in the comments. I'll probably buy them. In every color.
xoxo