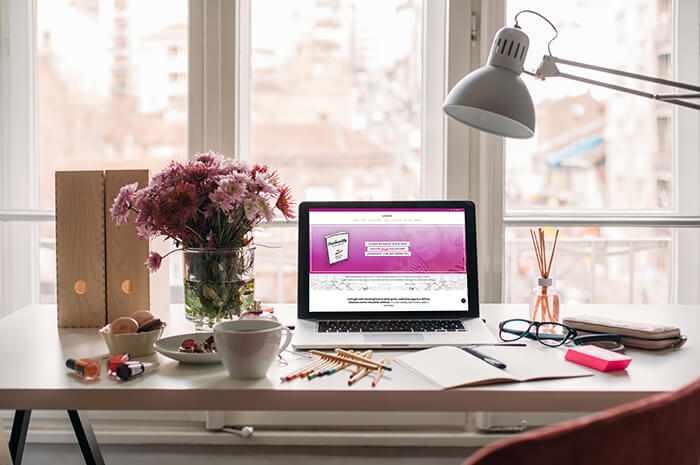 Ever wish you had a copywriter-on-call?
You know what I mean, right?
Like, you don't actually need to someone to write your stuff for you, because:
You're actually a pretty damn good writer (if you do say so yourself) and/or

You're very concerned with sounding like you in ALL of your content and not sure if a copywriter will really "get" you
What you'd really love is to have a professional around who can swoop in, read over what you've created and just let you know if you're making any damn sense, so your copy gets out there faster AND your unique voice doesn't get lost in translation.
Well, I've been listening. And if you're one of those peeps looking for copy support that doesn't require having a writer take over, I've whipped up something you'll adore.
Introducing…
Couture Copy Coaching
(aka get me on your team for 6 weeks + get your shit out there, girl!)
This is totally for you if:
You're about to launch your first website and you don't know how to write about you do in a sexy, succinct way

You're rebranding and you don't know how to write about what you do (now) in a sexy, succinct way

You're launching a hot new product or service and you don't know how to write about your new thing in a sexy, succinct way
See the pattern here? 😉
Basically, if you're about to create a frenzy of content for something – a new site, a refreshed site, a launch – and want a clear and compelling message that attracts your dreamiest clients while staying true to your voice…this is for you.
If I had to sum it up in a sentence, I'd say copy coaching works like this:
You write some content, I wordsmith the shit out of it.
Or, you're not sure WHAT to write? I'll tell you…you'll write it..and THEN I'll wordsmith the shit out of it. 😉 
Easy, peasy. 😉
Six weeks of one-on-one copy coaching + support straight from the secret weapon of some of the hottest Internet marketers and business coaches? Yes, please!
Allow me to help you define + refine your message in your OWN voice (so you DON'T sound like everybody else – or SOMEBODY else – in YOUR copy!)
Sound like just whatcha need?
NOW ACCEPTING CLIENTS FOR WINTER 2018
What You Get
6 weeks of 1:1 mentorship to help you write compelling copy for your website or your next launch. The main goal? You walk away with ALL the content for your big thing done and dusted, so you can put it out there with confidence.
What can we bang out during our month together?
– All your website copy (up to 4 pages)
– Launch copy for your next product or service
– A "forever funnel" to lead people into your signature offer
– Pretty much anything else you wanna whip up!
One 60-minute Kickoff Copy Clarity Call to dig into your business vision, ideal clients + story
My exclusive "Brand Beat Sheet" which has helped 100s of entrepreneurs get crazy clarity on their businesses (and lives) #justsaying
Three additional 30-minute calls to jam out on all things copy + business (from ironing out an offer to banging out a blog title) and boys (no judgment) and review your copy + content
Unlimited "911" copy reviews – Shoot me drafts of anything you've written (a sales page, a Facebook ad, you name it) at least 24 hours before our check-in calls and I'll comb it over for overall message clarity and ensure the flow, story and voice matches your brand. I'll also focus on crafting magnetic headlines and calls to action that crush your conversion rate. And then, I'll either shine it up myself, or tell you exactly how to do it. (Examples? Enlist me to sparkle up a bulleted list set to make it's debut on your next sales page, or polish a Facebook promo post, or look over that blog post you finished at 3 a.m.)
Unlimited email support (within reason 😉 ) to answer any burning Qs you have as you create your masterpiece(s)
Tantalizing templates, copy cheat sheets + other sanity-saving materials I only usually share with my couture copy clients (Want a personalized, strategized welcome sequence telling you exactly what to include in each email and why? Sure. How about an about page template full of custom-crafted 'messages' and stylistic syntax that tells your story with flow and function? You got it!)
Loving-but-firm accountability (because in order for this to work, you've gotta do the work, babe)
Lots of delicious surprises. Because that's how I roll. And because I want you to feel wildly supported every step of the way.PLUS! Unlimited Voxer access for around-the-clock freak outs, questions and jokes 😉
Investment: $1500
Sooo, ready to borrow my brain for 6 weeks and get your stuff out there (finally)?
NOW ACCEPTING CLIENTS FOR WINTER 2018

Honestly, it doesn't matter where you are in business or what you're working on. If you want an expert copywriter (who also happens to love making things sound sassy + fun) to review your writing and make sure you nail it, this is your chance.
E
"Erica is a genius. Her Namedrop package is worth every penny plus more. I think my brain exploded reading all the names she came up with. I was seriously floored and amazed. Not only were all the names perfect, but I couldn't choose just one and the storm of ideas will keep me busy for months! Don't think about it, just do it." 
Jenn Scalia
"I highly recommend Erica! So much fun to work with and I'm so pleased with what she whipped up! She was able to take all of my muddled thoughts and put them neatly in place to paint a picture of my services and passion that makes me want to sign up for myself. See right there? Erica would have made that last sentence read so much cooler, yet still sound like me."
Kathy Stowell
"I was so nervous to bring an expert into my copy because I thought that it would make my work feel salesy and forced, but Erica asked the right questions, understood what I needed and made sure that my heart was in everything she wrote. Erica is real, funny, friendly, kind and has such a talent of supporting you in bringing out your true voice and owning your brilliance. This was such an amazing experience. Thank you Erica for bringing my Launch & Live program to life"
Safiyah Satterwhite
NOW ACCEPTING CLIENTS FOR NOVEMBER + DECEMBER 2017