"OMG, this chick gets me."
"I've gotta work with her."
"I'd seriously sell my new (and gorgeous) Kate Spade crossbody to get the cash to buy that class/product/service."

That's the kinda stuff you want your dream client to think when she reads your website.
The only problem?
Sitting down to actually write a website that makes her feel that way…
…is far easier said (or thought about, or procrastinated on) than done.
Okay girlfriend, level with me.
Is this you?
Are you tired of re-writing the same sentence on your services page because you're debating for hours whether to call your product "amazing" or "wonderful" (and probably giving yourself carpal tunnel in the process?)

Do you freeze up as soon as you plop your cute butt down to write anything for your business (blog posts, sales copy, tweets – you name it!) because everybody else in your niche sounds so damn cool and you're scared you'll never compare?
Do you haaate that your copy has none of your flay-vah in it – because you don't know how to sound both professional AND compelling?
Do you want your copy to sound fun and sexy, but instead end up with writing that's robotic, corporate-y or painfully dry (like the half-empty glass of pinot next to your keyboard)?
Do you spend hours + hours doing everything but writing for your business (like, y'know, perusing Nordstorm.com just in case those hot 7 jeans just went on sale since the last time you checked…5 minutes ago)?
Do you (secretly) die a small, embarrassing death inside, every time you send out a link to your website?
If  you're sitting there going, "OMG, that's totally me!" I want you to know three things: 1.) you're not alone, 2.) I totally think in acronyms, too and 3.) it's time to cut. that. ish. out.
There is another, easier way to get your unique message online – without ruining another $50 manicure (from all the nail-biting) or waking up with another wine-over.
say hey girl hey to…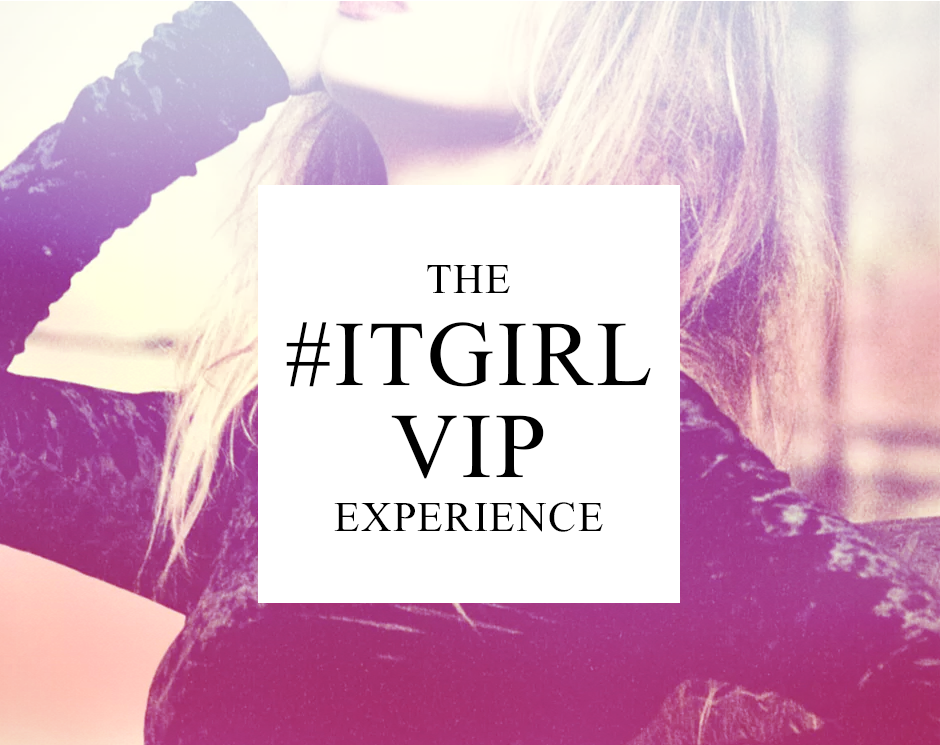 couture copywriting for trendy tastemakers + lady rebelles with a cause
that sounds like you + makes sales, too

the #itgirl VIP experience is an entirely done-for-you copywriting service just for brilliant + beautiful womenpreneurs who know what they wanna say, but don't know how to say it.
Work with me and my brilliant couture communications team, babe, and over the course of three weeks, we'll consciously craft copy that speaks right to the hearts (and cute, glittery wallets) of your dream clients using the magic of Google Docs …and Starbucks. 😉
As an #itgirl, you will receive ALL of the crave-worthy copy you need to get your dream clients devouring your offerings like Ben & Jerry's after a bad breakup, establish yourself as a "go to" in your niche and gain mega-watt clarity on your message and brand, to boot.
Nope, you won't just sashay away with succinct, sexy language that makes you mad money, honey – instead you'll get something even more incredible: you'll know exactly how to communicate your message in all your content and copy from now on.
Cue having more confidence in your message, your business, your voice and your life than ever before.
"The keys to brand success are self-definition, transparency, authenticity and accountability."
– Simon Mainwaring
The #itgirl VIP experience will help you…
get princess-cut-clear on your brand message + how to convey that to your audience through language so you land more perfect-for-you clients like no big deal
  know how to describe your business long after our work together is done so you're never left stammering (or obsessively pressing the backspace button) anytime you get asked the dreaded, "So what do YOU do?" question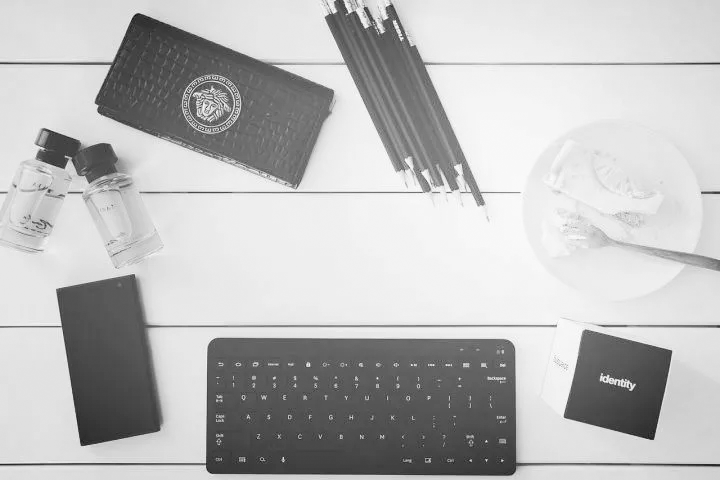 You'll Love Being an #itgirl Because…
You'll never have to "sell yourself" ever again (because your seductive, magnetic copy will do it for you)
You'll actually want to show off your website 'cause it sounds so damn fab (aka your days of giving away your URL with a, "I know the copy's not that great, but…" disclaimer are over)
Your copy will actually make you money (srsly, we'll make it socompelling + irresistible your dream clients will be throwin' dolla bills atcha like it aint no thang)
and, obvs, you'll have way more time to live your freaking life – y'know, like hitting up that hot yoga class, responding to your client emails in a timely manner and/or catching up on your trashy DVR'd reality TV (I won't tell!)
"Start by knowing what you want and who you are, build credibility around it and deliver it online in a compelling way."
– Krista Neher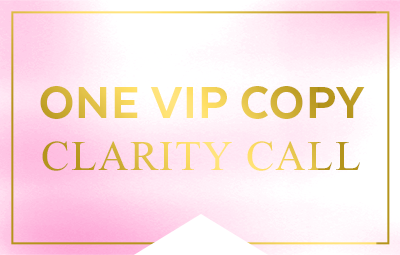 This 1.5 hour Skype soiree is all about going behind-the-scenes of your business to dig into what really makes you tick. Hook us up with a backstage pass to your brain, and we'll help you get crystal clear on your big message + how to convey that in words that woo wallets RIGHT open.
Our little gabfest will help us nail down a rock-freaking-solid branding + content strategy that will drive your entire business and you'll get an instant, supercharged confidence boost to get out there + start doin' you.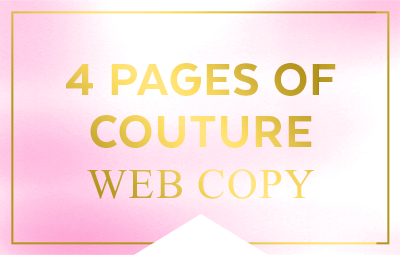 You'll receive 4 must-have pages for your website, all filled with copywriting that POPS, SPARKLES AND SHINES. Done, dusted + delivered right to your inbox.
Includes…
:: One haute home page to make a sensational first impression
:: One mind-blowin' bio that builds credibility, trust + gives your clients an instant, near-addictive hit of that "OMG, this chick gets it!" feeling
:: One services/work with me page that entices + charms dream clients like any (adorb) Ryan Gosling movie and melts away their pre-purchase jitters like no big deal
:: One additional page of your choice (FAQ page, Start Here page, Contact page – you name it!) so you can make your big debut, your way
:: One round of rad revisions to get it all just right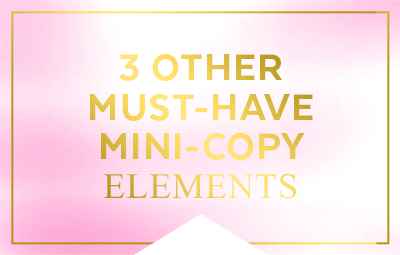 The days of stammering (and obsessively pressing the backspace button) when somebody asks you about your business are over. When you become an It Girl, you're gonna learn exactly what to say/speak/write about your biz because I'm gonna hook you up with a collection of compelling copy snippets you can refer to and/or copy + paste whenever you need 'em.
Includes…
:: Your voice values, core messages and unique branding concepts defined once and for all (and in print!)
:: Hot name + tagline ideas for your business OR signature product or service that no dream client can resist
:: Crave-worthy email opt-in teaser copy guaranteed to reel in the sign ups
:: A super swanky promo bio blurb for promoting yo' bad self with ease (for use on your own blog, your newsletter, guest posts + pitches + other places on the interwebz where peeps wanna get to know ya)
Ready for copy that sounds like you + makes (mega) sales, too?
INVESTMENT: $2495
(payment plans available)
HELL YES!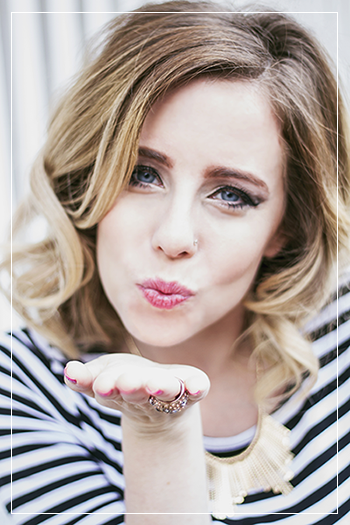 Why should you trust us to turn you into an #itgirl?
Hey babe. I'm Erica Lee Strauss, CEO + head #copyqueen at xo couture communications, and I've spent the last 5+ years helping wicked-cool womenpreneurs make mad cash sharing their message online.
To date, the couture coterie + I have collaborated with hundreds of badass biz bombshells to develop compelling website copy that conveys what they're all about in a way that's succinct, sexy and of course, makes them sales (just without sleaze, hype or fluff).
We geek out on taking the zillion ideas you have in your head and turning them into cohesive messages that help you reel in sales AND take a stand. Because we don't just work with any old business, we work with women-run businesses that actually have something to say.
Sound like you? Then stick with us, babe, and we're gonna get you a website that's chock-full of hypnotic, seductive, sizzling words that'll have your prospects frantically searching for that "Buy" button faster than John Mayer can break another innocent starlet's heart. (Which is to say: Pretty damn fast.)

"Erica swung in when I needed her most, new services launch time. In short order she created bangin' sales pages that spoke to my people and were infused with ME. It was amazing to see my work spring to life on the page. She saved me weeks of agonizing over word choices & sales page structure. Now, they're done for me and landing me clients. So much win."
Ellen Ercolini
"Erica is a pint-sized tornado of wordy goodness. After hiring her for a 'Namestorm' project she delivered exactly what I was after and immediately cut through the swamp of boring nonsensical 'blah' that I was creating on my own and got to the heart of my project in a few spiffy lines. I'm chuffed to bits.She's super quick to get the work done and she really 'sees' what you and your project are about. I'll certainly be back for more."
Amy Humphries
"I had so much to do that making the time to sit down and write a draft was not happening. I hadn't heard of Erica before, but her first email SOLD ME! She is definitely one of the best copywriters I've ever worked with! I would absolutely recommend Erica to anyone looking for a copywriter."
Kendrick Shope
"…Erica just took the ideas I had and (all super speedy like) whipped them into a sales page that made me want to buy what I was offering! The icing on the cake is she's lovely! I really enjoyed my time chatting with her before she started writing and felt like she was genuinely interested and cared about my project. I've recommended her to several of my clients and I can't stop hearing about how awesome she is!"
Allison Braun
Intrigued?
The #itgirl VIP experience is available by application-only. CLICK BELOW TO GET STARTED.
If I think you'd make a purrrfect fit, I'll hit you up with a personalized proposal and/or a link to schedule a free 15-minute Copy Talk Consult. This rapid-fire, get-to-know-each other chat will help us decide if the #itgirl VIP Experience is right for you.
Once you gimme an "OMG YES!," I'll send you your Brand Beat Sheet, welcome packet + all the other need-to-know deets. (You'll also receive access to a special page to pick a personalized payment plan that suits your cute, Coach wallet.)
the #itgirl VIP experience is just perfect for biz babes who:
 Are newish to business but ready to go pro with their copy
Are mid-or-post-rebrand and seeking some fierce, fresh syntax to express what they're really all about (now)
Want to have a little "fun" with their copy – and would rather die than sound like everybody else  😉

But it's definitely NOT for:
Anyone without an actual business (sowwy!)
Ladies totally terrified of injecting personality into their brand
Biz owners who aren't ready to make definitive decisions about the direction of their brand and business
How does it all work?
Well, here's a peek into the process:
:: We plot + plan. Thanks to your fun-filled pre-project questionnaire (Brand Beat Sheet) + our VIP Copy Clarity Call, we'll have tons of 411 on your target market, copywriting objectives + what makes you, you. (We also expect you to do your due diligence by handing over all your market research beforehand, but don't worry – this is all explained in your Beat Sheet.)
:: We research + spend lotsa days immersed in all things your biz. We get knee-deep in research to get to know you, your business + your industry, in a totally non-creepy + strategic way. (Though it should be noted, Erica wasn't a professional celebrity Twitter stalker for almost two years for nothin'!)
:: We drink lots of Starbucks soy frappucinnos. Studies say caffeine actually can make you more creative, so just let us do our own thing, okay? 😉
My team and I truly do everything we can to slip into your shoes (pumps, flats or boots – whatev!) and write like YOU. Except the most sleek, polished version of you.  Our goal for each + every xo couture communications client is that nobody knows you hired a copywriter – they just think you sound awesome.
How long will it take for me to get my final copy? I need a website – stat!
Although we'll start banging out your web words immediately after your Copy Clarity Call, it usually takes about 3 weeks to go from call to final copy (including one round of revisions). You can't rush greatness, my love. 😉
BTW, you'll receive all your final copy in both Google Docs + Word Doc, formatted + ready to pop on your site + go.
What makes the #itgirl VIP experience different?
You're getting more than just copywriting. You're getting incredible clarity on your brand and messaging which will prove wonderfully helpful down the line as you create more content for your biz.
Many clients have told us our Brand Beat Sheet is worth the investment alone.
I run a brick and mortar biz/ I offer products, not services. Is this for me?
Yes, yes, a thousand times yes! We love working with fun, trendy, boutique product-based businesses. Chocolatiers, jewelry-makers, you name it – we can help.
The same business, branding and messaging principles apply no matter if you sell online or in the flesh.
What if I need more pages?
No problem! We offer reduced add-on rates for each additional page of copy (except for long-form sales pages, which are another beast). Just ask!
Is there a payment plan?
Yep. 🙂 We can talk more about this when you get in touch, if need be.

Our "Love It" Guarantee
At xo couture communications, we pinky swear to do whatever we can during our time together to ensure you're head-over-kitten-heels in love with your new web words. (And this should be pretty darn easy, since you'll be there making decisions every step of the way.)
Don't love it? Then we're not done.
Now, let's change some lives (with sass, spunk and seriously witty pop culture references), shall we?