So what's been stopping you, especially when the benefits are SO freaking great? Let me guess: You just haven't sat down + actually put that shit on paper + out there into the wide world. Which is, as you know, the only thing that matters in the end.
Maybe you hate writing, or maybe you don't. Maybe you're a total newbie, or maybe you've put together a few sales pages on your own that have ushered in some cash. But no matter how you feel about writing copy, when it comes down to it you don't know a damn thing about what motivates people to buy – aaaand that scares the crap out of you.
Not to mention, you've put soooo much damn pressure on yourself because you know this "thing" is supposed to be YOUR BIG THING. You've been over thinking it all – the offer itself, the pricing, EVERY WORD on your sales page draft. AND YOU'RE EFFING STUCK.
You don't want to launch an offer that flops like an indie artist's sophomore album, right? (Cringe-worthy!)
The good news? You don't have to. And in fact, you shouldn't even TRY to master something that isn't in your zone of genius, or even really that fun for you.
If you just don't want to – or know how to – write sales copy that actually makes you money…
If you're STUGGLIN' to come up with a top-notch, uber-original premium offer…
And if you're ready to stop working so damn hard without seeing the cash returns…
SAY "HEY GIRL!" TO RED CARPET READY: A SEXY SALES PAGE FOR YOUR SIGNATURE OFFER

Red Carpet Ready is a one-of-a-kind branding + copywriting service, where I'll not only personally help you create or re-fine your signature offer, but write a compelling sales page that will help you launch like a #girlboss and rake in the sales. Together, we'll figure out how to package + present the one thing that's gonna distinguish you FOREVER from the competition because it's something ONLY YOU can offer in the way ONLY YOU can offer it. And then? I'll whip up THE MOST ESSENTIAL PIECE OF COPY you'll need to get people off-the-charts excited about your offer and practically salivating over it's release so that come launch day? Your PayPal account pretty much explodes. And I'll be there – on-call via email – to work out any post-launch kinks. Work with me and I'll coax that message right outta that brillz brain of yours and string your ideas into conversational copy that sells…while you sip mimosas and/or catch up on DVR'd Real Housewives. With me on your team, you can actually get that shit out there and making you money, honey.
For. Real.
Red Carpet Ready Will Help You…
:: create your offer from scratch (or revitalize your current signature) – you'll know exactly what to offer, for how long and at what price point

:: get sparklingly clear on the real "vision" behind your new, signature offer – so you know exactly how to write/speak about your big thing (now and in the future) 

:: save hella time because you'll have your sales page completely done-for-you (read: you can go enjoy a Netflix binge or get that damn mani/pedi, instead of slaving over your sales copy for hours/days/weeks)

:: finally feel like you're making the impact AND money you're meant to!  

FEELIN' IT? BOOK your SPOT now + you'll receive…

♥   ONE 30-MINUTE COPY CLARITY CALL with yours truly, where we'll talk you, your business and the sweet ass new thang you wanna launch, so I can truly get to know you + your mission + then capture your amazingness on paper (er, computer screen)

♥  THE RED CARPET READY PLAYBOOK  – My signature intake playbook that's not only gonna help you discover your brand, but who you *truly* are (this is deep, ladies)

♥ ONE PAGE OF LONG-FORM SEXY SALES COPY – You'll receive a custom, highly-targeted, meticulously-crafted "invitation page" for your hautest offering (e-course, service, product etc.) that speaks directly to your dream clients in persuasive, compelling language

♥ ONE NAMESTORM (5 name + tagline options) so you'll have a bevvy of naming options to choose from, for this project or in the future (all the names + taglines are 100% unique-to-you and yours to use forever!)

♥  EMAIL FOLLOW-UP for up to 30 days after your launch for feedback, late night freakouts + somebody to share in your celebration!
FOUR spots left for March 2015!

So much fun to work with and I'm so pleased with what she whipped up!
"I highly recommend Erica! So much fun to work with and I'm so pleased with what she whipped up! She was able to take all of my muddled thoughts and put them neatly in place to paint a picture of my services and passion that makes me want to sign up for myself. See right there? Erica would have made that last sentence read so much cooler, yet still sound like me." – Kathy Stowell, Bliss Before Naptime
When I first read my copy I couldn't believe how perfect it was.
"Working with Erica was the best thing I ever did for my biz confidence. Before working with her I kinda knew my message, but had trouble explaining it without a lot of 'umms' and 'kinda's.' Erica asked just the right questions and then took the essence of my message to distill it on paper. When I first read my copy I couldn't believe how perfect it was. Now I know that when an ideal client lands on my website, she's going to feel intrigued and just know that my services are for her. Thank you, Erica, you're a genius!" – Iris Barzen
…Erica just took the ideas I had and (all super speedy like) whipped them into a sales page that made me want to buy what I was offering!
"…Erica just took the ideas I had and (all super speedy like) whipped them into a sales page that made me want to buy what I was offering! The icing on the cake is she's lovely! I really enjoyed my time chatting with her before she started writing and felt like she was genuinely interested and cared about my project. I've recommended her to several of my clients and I can't stop hearing about how awesome she is!" – Allison Braun, The Business Joyologist
It amazed me how tuned in she was to my work and how she was able to convey it through the copy.
"Erica is an amazing partner to work with. I've dealt with many copywriters during the course of my marketing career. She is one of my favorites for her writing style, trendy yet edgy lingo and responsive/professional work ethic. I would recommend her to anyone looking for a fabulously witty and turn-key approach to copy. She just gets it and it doesn't take a lot of explaining to get from A to Z. It amazed me how tuned in she was to my work and how she was able to convey it through the copy. I look forward to using her on future projects for myself and my clients. Cheers Erica – you make it look easy girlfriend. " – Laura Burbano, mindset + magnetic marketing expert @ BrandNU Coaching
She saved me weeks of agonizing over word choices & sales page structure.
"Erica swung in when I needed her most, new services launch time. In short order she created bangin' sales pages that spoke to my people and were infused with ME. It was amazing to see my work spring to life on the page. She saved me weeks of agonizing over word choices & sales page structure. Now, they're done for me and landing me clients. So much win." – Ellen Ercolini, money making expert for creatives @ EllenErcolini.com
Booking FOUR spots for March 2015!
Red Carpet Ready is Juuuuust Pefect for You If:
♥ You're lookin' to launch a hot new premium service, product or course
♥ The thought of writing any more of your own copy literally gives you stomach pains
♥ You're ready to stop worrying your sales copy isn't gonna sell. Because with me on your team, it will.
♥ Coaches, consultants and other womenpreneurs in the fashion/tech/marketing/relationships/business fields
♥  Biz owners who are sick and tired of working super long hours for little ROI
YOU DOWN? Here's WHAT TO DO:
 ♥ Make your purchase by clicking the "BUY NOW" button below. You'll immediately be redirected to a handy dandy interest form. This is where we'll feel each other out…in an all-business kinda way, obvs.

♥ In 1-2 business days, you'll receive your Red Carpet Ready Playbook + a link to schedule your Copy Clarity Call to iron out all the (not-so-dirty) deets.

♥ We'll hop on the line for your call + talk about your business, your target market, the vision for your copy and how you're totally going to end up in the pages of NYLON and/or Fast Company one day. (Trust me, you will.) Champagne totally optional (but encouraged).

♥ Project commences. You'll receive first drafts within 2 weeks (or less). 

♥ We'll go through two rounds of edits over the following 5 business days, where you can let me know exactly what's working and what's not. You mark up the copy with any + all edits, revisions + new ideas.

♥ I'll send your final couture copy all ticked + tied + done up with a bow (or hot turban, your choice) + you can get to showin' off that sexy new signature offer!
Booking FOUR spots for March 2015!
WHO IS THIS BISH? I'LL TELL YA.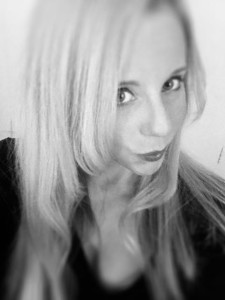 I'm Erica Lee Strauss, and I'm a bad-girl-turned-celeb-gossip-reporter who now bangs out brilliant copy for wicked-cool womenpreneurs who wanna sound like themselves online + make major green. I've collaborated with a shiz ton (that's an actual figure) of badass biz bombshells to develop signature services + packages, compelling website copy, and hot names + taglines that convey what they're all about in a way that's succinct and damn sexy. I have a major obsession with personal branding + turning women's personal stories + quirks into sizzling, sexy syntax that sells and is hella fun to read. (And seriously, if I could make Kim Kardashian sound super fascinating day in and day out for years, then, well, just trust me – getting people to fall in love with YOUR SEXY ASS will be a breeze.) Stick with me, babe, and we're gonna get you a website that's chock-full of hypnotic, seductive, sizzling words that'll have your prospects frantically searching for that "Buy" button faster than John Mayer can break another innocent starlet's heart. (Which is to say: Pretty damn fast.)
Got q's? I got a's.
You've devoted your life to making other women look, feel and BE fabulous; you give endless joy + boundless freedom. My job is to provide you with copy + branding that does the same for you. If you have any questions, comments or concerns that weren't answered on this page, please e-mail me at erica@ericaleexo.com.