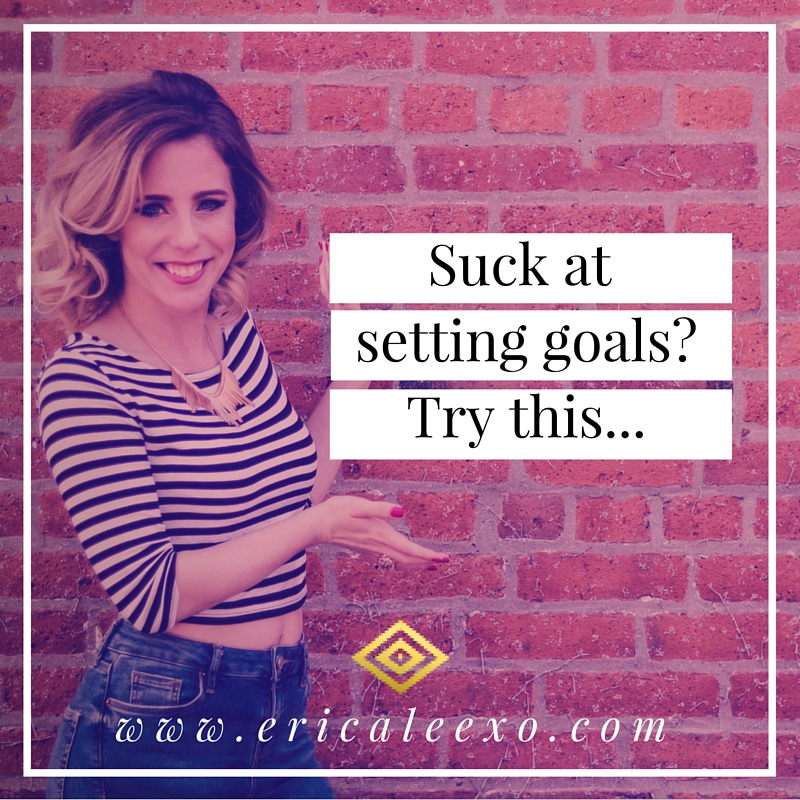 Sooo, as I'm writing this it's officially 25 days into 2016. Is it just me, or does that seem totally crazy? It feels like just yesterday I was clinking my champagne glass against the (shot) glass of my one of my oldest friends to toast the new year. But alas, time flies when you're doing remarkable work in the world. 😉
Anywho, I wanted to share a little message with you, because honestly, there's been SO much chatter about goals! and milestones! and resolutions! and THIS YEAR IS GONNA BE YOUR YEAR!
But honestly, when it came to setting my goals for 2016…well, I just, uh, didn't.
I don't have an (official) income goal.
I don't know (exactly) which products + services I'm going to launch this year.
And hell if I know when I'm actually taking a (beautiful, preferable tropical) vacation.
This isn't really TOO crazy for me. I often like to leave a little wiggle room in my "list of goals" anyway, for unexpected surprises, opportunities + cash flow. BUT totally not setting any real tangible goals yet? It feels a little scary.
Or it would, if I hadn't done something that might be even more beneficial for me. (Girl can't just head out into the world without ANY plan for world domination, now can she?)
Instead of goals, I've decided to choose a few guiding principles – words, if you will – to nudge me along this year, and circle back to anytime I'm wondering, "Should I book this client/write this article/say yes to this invite/buy this pair of shoes?"
And I wanted to share this concept – and my specific principles just for #inspo – with you in case you, too, are a bit of a "fly-by-the-seat-of-your-sevens" kinda gal. 🙂
So what words/principles did I pick to propel me this year?
Word 1: SIMPLIFY. 
Okay, sooo I admittedly got a bit obsessed with the whole minimalism thing at the end of 2015 (as evidenced by my Pinterest boards…), after eating up Greg McKeown's book, Essentialism in one sitting. I'm no stranger to minimalism, but what I LOVED about Greg's book is that he doesn't just focus on material things (we've ALL read, The Magic Art of Tidying Up by now, haven't we?), but rather on simplifying our commitments. He asks all of us to answer the question,"What do you REALLY want more time for in your life?" Seriously though: What DO you? And please, don't feel guilty if what you really crave isn't a six figure business or a fat client docket. Maybe (like me), you want more flow + ease in your days. Maybe you want LESS commitments to LESS people but MORE QUALITY inside those commitments. Call me biased, but I honestly think in this day + age of "MORE AND BETTER AND FASTER, PLEASE!" simplifying is a great guiding word for pretty much anybody.
How I'm Practicing "Simplifying" in 2016: Less yes's, more let-me-think-about-it's (and actually thinking about it). Less juggling clients, and more hyper-focusing on 1-2 at a time. 
Word 2: LOVE.
To be totally honest with you, I'm slowly sashaying my way into my third year in business and just now understanding the true value of loving up whoever is around to be loved up in business. (Guess I'm not quite as gifted as my elementary school teachers thought. 😉 ) For real though: I'm an introvert and I have social anxiety disorder (and trust you'll be hearing a lot more from me this year on how I've maybe not-so-gracefully handled this over the years), so spending heaps of time around/talking to others has NEVER been my thing. I prefer small, intimate groups and cozy little chats with 1 or 2 people over loud, roaring parties any day. But what I didn't realize my first few years of business was HOW DANG TRUE the old adage about how 80% of your business will come from 20% of your people is. I went into business thinking I didn't want anybody to "own" me or my time ever again, but the truth is, maintaining ongoing (positive!) relationships is SO necessary. If this is an area you struggle with (professionally or personally), it's WORTH looking into + focusing on. Don't be like me and miss out on some wonderful opportunities for friendship and collaboration because you don't put in the effort to get to know your colleagues + clients.
How I'm Practicing "Love" In 2016: Reaching out instead of shutting down when things go bonkers. Attempting to mend old, burnt bridges with a whole lotta love. Reading up on intimacy issues, and anxiety issues, and doing my best to heal all of the above. Actively seeking out (and contacting) people I admire. Oh, and focusing way more on this blog than reaching out to randos on whatever social media platform is the new craze this week. 😉 
Word 3: AUTOMATE.
My last guiding word of the year is automate, and while that sounds kinda, um, tech-y, it's actually a really fascinating thing. I've been learning a LOT about sales funnels lately, which sound SO un-sexy, but turns out they're actually just super fun (and simple) ways to automate your sales processes. Okay, that still doesn't sound sexy, but the things sales funnels can do for you? TOTALLY SEXY. I'm talking: Less time on "discovery calls" that don't pan out. Less feast or famine and freaking out over where the next dollar's coming from. And more consistent leads and prospects in your (gorgeous, mahogany, French) doors. 🙂 Who doesn't want all that?
How I'm Practicing Automation in 2016: Implementing several sexy sales funnels in my own business to help people get to know me better. (I'm also working on a service to help you write the copy to do the same!) Getting my finances automated (finally!) – I'm talking automatically paying bills and saving for all sorts of adventures (I'm already using a fun little program called Digit that squirrels away tiny pockets of money you'll never even miss – so rad!). And finally, having my VA handle pretty much any + everything I can't or don't want to. It's not entirely automatic, but I'd love to know that I can take that tropical vacation this year and my business won't totally shutdown because of it. 🙂
And that's it, loves! Three big ass words to guide me (and my decision-making) for all of 2016. BOOM.
Moral of my story? Don't sweat it if you're still unsure what your goals should be for 2016. You can always tear a page out of my playbook and try to think in terms of guiding principles for the year, and make your goals from there.
To a much simpler, automated + relationship-filled new year…if that's what you're into. 😉
E
P.S. If you do something similar, I'd love to hear what your guiding words are. Just leave a comment + let me know. 🙂
P.P.S. Speaking of what's gonna happen in 2016, I was recently featured in a fun article about marketing predictions for 2016 alongside some kick ass entrepreneurs like Kimra Luna + Denise Duffield-Thomas. You can check out what I and 32 other luminaries had to say about the future of marketing right here. (Spoiler alert: It's lookin' pretty bright!)